---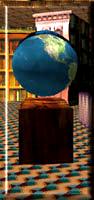 With the assistance of modellers, animators and programmers at the Bell Centre for Creative Communications (Centennial College, Toronto), and funded in part by the Canada Council for the Arts, Millennium Arts Fund, the first incarnation of this project titled: THE LIBRARY, was publicly launched online, on January 1, 2000.

The beautiful rotunda of the Canadian Library of Parliament was the inspiration for this 3D environment. Photographs, secured with the cooperation of the Librarians and Archivists at Parliament Hill, became the texture files. Three stairways were added to the interior of the building, and additional points of access were provided to the upper levels. Six interactive 3D objects and sculptures were strategically placed throughout the Library for the online viewer to discover as they navigated throughout the space using a VRML-enabled browser.
In mid 2000, I took up the position of Visiting Artist at the School of Communication Arts, Seneca@York University (Toronto). I was provided with access to an ORAD Virtual Studio. ORAD is the world leader in virtual sets for the broadcast and post-production markets, specializing in camera and object tracking technologies, 3D graphics and Electro-Optics. With the assistance of ORAD technicians and the support of LorTech (their distributor in Canada), the fully optimized 3D Library environment was ported to the CyberSet M, enabling the seamless integration of people and computer-generated imagery. A system of infrared transmitters made it possible for viewers to see themselves in the LIBRARY environment. On a wall size screen opposite the blue screen CyberSet, viewers could watch themselves moving around and behind 3D objects such as the world globe.

---
Nancy Paterson
nancy@utcc.utoronto.ca




Back to Nancy's Mainpage